Canadians are divided on this issue: 50% are afraid of change; 50% are excited by change (and the Air de la folie from Lucia di Lammermoor, as revisited by Luc Besson in The Fifth Element)
Change has become one of the most fundamental facts of modern societies. Technological evolution is undoubtedly one of the main drivers of the transformations we are experiencing, but it is certainly not the only one. Immigration, social diversity, personal mobility, market competition, financialization of the economy, climate, etc.: life is changing and becoming more complex from day to day. All these phenomena have a very real impact on people's daily lives.
Not only are we living in a unique period of change, but the pace of this change continues to accelerate. The law coined by Intel's Greg Moore (referred to in one of my previous posts) posits that microprocessor capacity doubles every two years, thus paving the way for a potentially exponential development of techno applications!
From the first traces of stone tools about 2.5 million years ago and the mastery of fire 450,000 years before our time, to the start of agriculture about 10,000 years ago and the invention of the wheel 5,500 years ago, we can see that technological progress was much slower historically than it is now.
And this is equally true of information dissemination. After the arrival of the Gutenberg press and its movable metal type in 1452, we had to wait until 1894 for the invention of the radio, 1926 for television, 1938 for the computer, 1981 for the PC (IBM) and 1989 for the Internet (world wide web).
Since then, however, technological "progress" has obviously picked up speed. In the very near future, we expect a widespread Internet of Things, artificial intelligence, blockchains and quantum cryptography (ouch)! And the pace of innovation will only accelerate (Moore's law again).
In parallel with technology, the social fabric is also radically changing before our eyes. Wars, endemic poverty and climate change are driving populations in many parts of the world to migrate to Western countries where life is easier. This migratory burden creates identity problems for local populations, thus feeding the rise of populist movements.
All this, let's not forget, is compounded by the destruction caused by climate change.
The purpose here is not to enumerate all the challenges facing us today, but to present the context in which to interpret the results of this week's survey question.
This week's topic addresses people's attitudes towards change. With we present them with the statement "Change is part of the problem. It's very hard to keep up with," one in two Canadians agree (50%) with it, while one in two disagrees. The Canadian population is surprisingly divided on this issue, and the reality it describes, Thus, half of us "suffer" change as casualties of our era, while the other half see the opportunities for society and for themselves, personally, multiplying into the future.
Note that there is very little regional variation on this issue, with the exception of Quebec. Given the province's legendary "joie de vivre," Quebecers are almost ten points more enthusiastic about change than people in the rest of the country (57% of Quebecers disagree with the statement versus 48% who agree).
Significant variation on almost every socio-demographic and socio-economic characteristic
In a very pronounced way, this question and the issues it raises splits people by age group, income, education, occupation and market size!
Younger people, people with higher incomes and education, professionals, as well as those living in our largest urban centres are those most in favour of change. By contrast, older people, those with the lowest levels of income and education, skilled and unskilled labourers, and people living in smaller municipalities feel more threatened by change.
Socio-economic vulnerability makes people more anxious about today's world, while those who are better off see the benefits.
A threatening vision of change seems to on the rise in today's society. The feeling of being overwhelmed by all the change has been rising in linear fashion since 2014 (the first year this question was asked). The growth is not huge, rising from 45% to 50%, from 2014 to 2017 in the entire country, but the linearity of this growth appears quite significant to us (being highly unlikely that the statistical variability in the samples would err in the same direction three years in a row).
The world is changing too fast; people are having a harder time keeping up. This does not bode very well for the future, if the pace of change continues to accelerate!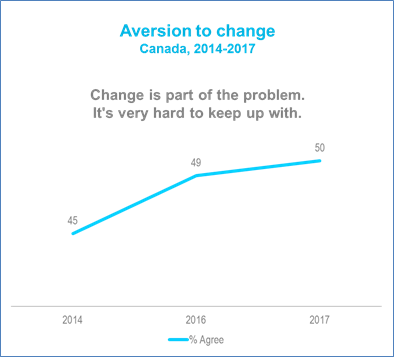 Feeling in control of one's life and an ability to handle uncertainty
While socio-economic and sociodemographic characteristics provide some insight into people's attitudes to change (in particular, vulnerability versus being well-off), personal values and hot buttons explain the deep-seated motivations and mentalities underlying the measured attitudes.
Basically, the most determining factor is the feeling of control that people have over their lives generally. Some people feel they have control over their lives and their destiny; that they are able to accomplish what they want to achieve and master the necessary levers to do that. This "mentality," this confidence in oneself and in life in general, predisposes people to welcome change more enthusiastically, as a bearer of opportunities, both for themselves and for society at large. They feel just as capable of handling the uncertainty of modern life, since they are able to maneuver in dangerous waters, in the belief that there are always solutions to whatever unforeseen situations may arise.
Other people display the opposite "mentality." They feel that their lives are determined by forces beyond their control, over which they are powerless. Globalized markets, the limitations of companies and institutions, a certain fatalism toward life, a defeatist vision: all this leads them to see change as a threat. They aspire to stability and balance against the "forces" in today's world. These individuals see change as a disruptive force that upsets this balance, plunging them into uncertainty (which they have trouble handling).
A need for education to deal with modern life and the increasing complexity of today's world
With such a high proportion of our citizens struggling with change and given the anticipated acceleration of its pace in the coming years, social projects to help people adapt would not go amiss. Whether through projects of social engagement by companies as part of their community involvement or government programs designed to tackle the impact of social change (from innovation, increasing diversity, climate-induced disasters, etc.), a pedagogy of adaptation to modern life is required in our increasingly "disrupted' world.
Social harmony over the next few years depends on it!