When projected against the geographical map of the province, what the results of the recent general elections in Quebec show is nothing short of astounding:  a red island (with a few scatterings of orange) in a sea of blue!  This is a perfect expression of the gap that is growing wider throughout the world, particularly in the West, between cities, metropolises and their regions.
Coastal cities in the US versus the middle of the country, Toronto versus the rest of Ontario (that just elected Doug Ford), London versus the English countryside (Brexit), Istanbul versus the Turkish Hinterland (Erdogan), in Germany, France, etc.  Many countries throughout the world are seeing a widening chasm between their metropolises and their regions, and Quebec is no exception.
Despite of this, the future will, undoubtedly, be urban.  It will be urban and will favor the metropolises.  It will be multicultural, open to the world, agile, complex, constantly changing and driven by technology that is smart, omnipotent and perpetually transforming (Blade Runner?). The march towards this  destination is on, and nothing will stop it.  And Montreal is following suit.  Perhaps slightly more slowly than San Francisco or Palo Alto, but it's heading in the same direction all the same.
However, while cities and their residents are adapting fairly well to these transformations - in fact, they are where these transformations originate and the very incarnations of these trends - when it comes to regions, the story is an entirely different one.
Regions are less exposed to these changes and see them as a threat, particularly now that they are occurring at accelerating velocity.  While urbanites see in them an opportunity for personal development and accomplishment, residents of regions perceive them as an obstacle to their lifestyles and identities.  The dispersion of Quebec's major regions on our sociocultural map speaks to this phenomenon with great eloquence. ...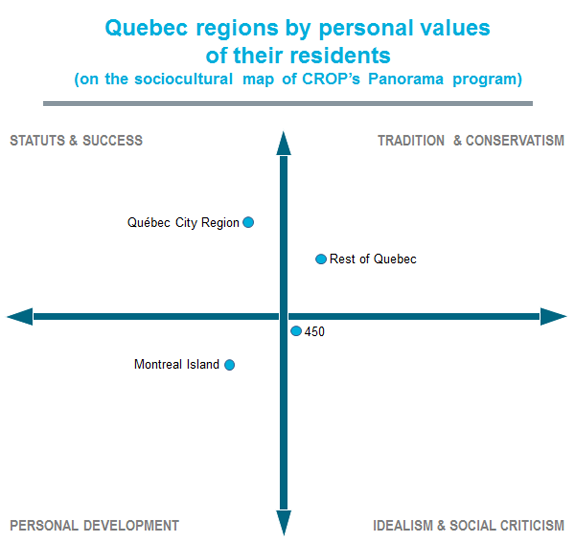 Mental postures in stark opposition!
The metropolis/region "chasm" is manifested most prominently along a certain number of mental postures that illustrate the difficulty regions have in transitioning towards the new world being thrust upon us...
A feeling of lack of control over one's life (which we call Control of destiny);
The capacity (or lack thereof) to adapt to a world that is complex and uncertain;
A need for comforting territorial anchors (regional identity);
A certain degree of ethnic intolerance (a perceived threat based on identity and region);
Closed attitudes when it comes to social and technological change;
Conservativism and nostalgia for better defined points of reference.
On each of these vectors, we observe a continuum of notable differences between Quebec's regions and the Island of Montreal.  Montreal residents feel more in control of their lives and their destiny, better able to adapt to life today, more open to ethnic diversity and to change and more socio-culturally "modern" (i.e., less conservative, as measured here by gender equality).
The table below seems to me to be particularly revealing.  It lists penetration rates, in proportion to the overall Quebec population (indexed at 100) of some of these indicators by region, from the Island of Montreal to the regions of Quebec, through 450 area code and the Greater Quebec City region.  The table shows that the Island of Montreal is, by far, that region that is the most in step with current times, that the 450 area code region lies somewhere in the middle and that the Quebec City region is by far the most "conservative" part of the province!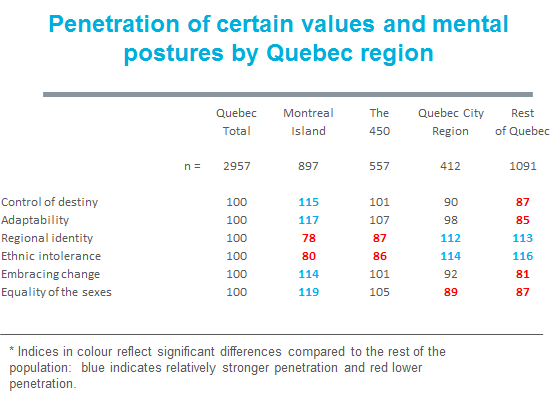 Immigration is at the center of the metropolis/region divide
Throughout the world, big cities are exploding and immigration is THE driving factor.  We are seeing intra-national migration from the regions to the cities, but also an acceleration in international migration driven by wars, misery, climate change and people dreaming of a better life.
Migrants stand out as the most visible sign of the rapid transformation in the world.  Globalization and technological change are discreet.  Migrants, on the other hand, show up in full flesh, with their values, customs, cultural heritage and "art de vivre".  They often incarnate a significant cultural difference when contrasted against local mores.  Which worries the natives. And leaves them with the impression that their cultural heritage and local identity are at risk, especially if opportunities to intermingle are limited.  (It's in the regions that we find the fewest immigrants and the highest rates of ethnic intolerance).  They see them as symbols before knowing them as human beings.
So this is how these city/region, openness to change/worry, sociocultural modernity/conservatism schisms have found their way into the center of national politics in most Western and/or democratic nations in the past few years.  The CAQ presented itself as a force for change (at least on the policy level), but it was mainly perceived as a defense against change (at least social).
Obviously, not everything is explained by this trend.  There was definitely a level of "fatigue" with the Liberals and the CAQ ran a better "oiled" machine on the ground.  But it cannot be denied: this campaign was won, in part, on the back of immigration.
As many other observers have remarked, we can only hope that, now that they are in power, the CAQ will govern further to the center than their campaign lead us to believe.  We'll see.