The Holy Grail, sought by all these methods!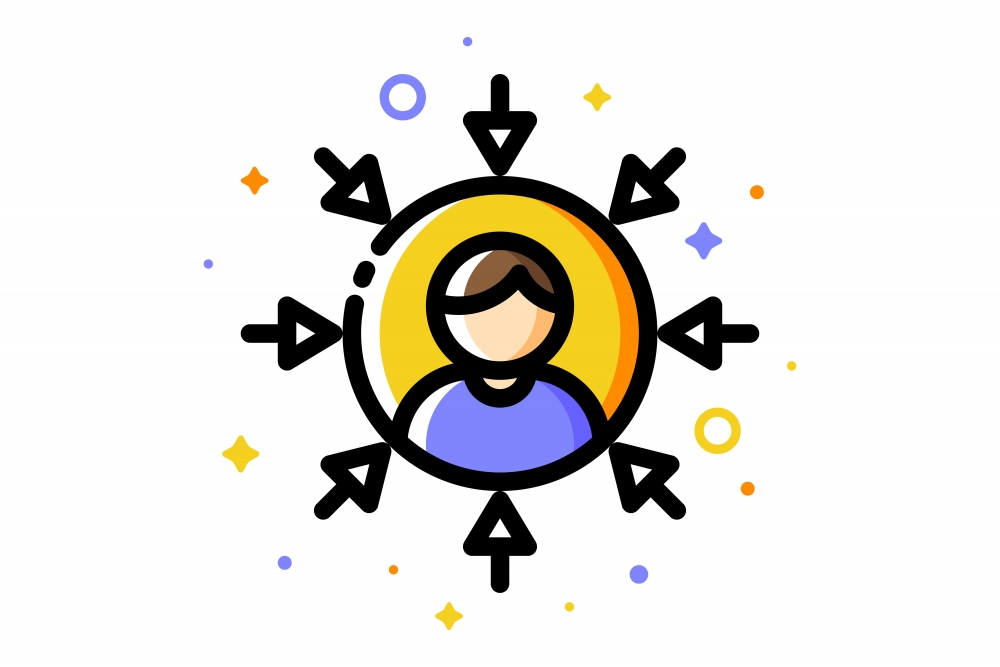 Personalized communications
You've probably noticed that your e-mail inbox is filling up faster than before, unless you have very efficient anti-spam software. The reason is probably that the companies and brands you deal with have begun communicating with you more directly and more persistently.
CROP has just conducted a major study on this topic for its clients. Our findings and implications not only offer specific guidelines to companies, but also insights into what our society is in the process of becoming!
In a single month, we estimate that eight out of ten Canadians (83%) get digital communications from companies or brands in the form of newsletters, promotional offers or discounts (emails, text messages, notifications or alerts on their smartphones, tablets, computers, or on social media).
Increasingly, companies are processing the data they have on you-your purchase history, your web browsing, your Facebook profile, the surveys that you fill out with them-which they incorporate into their databases (yes, CROP does this, too). Then, they "decrypt what you need" to sell it to you by means of personalized communications (using all the methods mentioned above).
The spread of these business practices is such that it raises important societal issues.
First of all, the fact that people's personal data is being used for marketing communications purposes is provoking endless debate. Voices are being raised all over the world to demand more protection and guarantees regarding the use of personal data; collective grievances to which governments are not insensitive (the use of Facebook data being a case in point).
Still, advertising has been a part of our lives since the beginning of the consumer society. Its business model is based primarily on the interruption of our media and content experiences to present us with offers. In this respect, one should keep in mind that these media experiences would not be possible without the revenue generated by these interruptions, since advertisers are paying to place their ads. This is the traditional media model.
But the very nature of this type of communication means that it is often not relevant to many people. If, for example, one of your favourite shows is interrupted by an ad from a car company when you do not need to change your car, you may get bored and irritated. This communication is not relevant to you.
Consequently, the key word here, the Holy Grail, sought by all these methods is: relevance!
A clear trend is spreading, where we find more and more people abandoning traditional media for content available on alternative services provided by Apple, Google, Netflix, Spotify and other web providers and mobile applications. Such content is certainly considered more relevant by users than what is available on traditional media.
Advertisers are also abandoning traditional media en masse. They are increasingly advertising on platforms that are better targeted to the consumers they seek by attempting to be more relevant to them, thus putting several traditional media (especially newspapers) at risk.
Personalized communications by e-mail or other means are all part of this trend: they are trying to reach us individually with targeted and relevant content. But this purported relevance doesn't always happen.
Half the people (50%) who get brand and company communications have unsubscribed from at least one brand in the last six months, judging the content to be irrelevant to them (too much useless content, lack of interest, etc.). The danger is very great for brands and companies that send out irrelevant content to people. Such communications may harm their relationship with their customers / users. (CROP uses its expertise in this area is to help companies be more relevant).
But here is the paradox, the irony: everyone is seeking relevance - people, consumers, users, customers, as well as the businesses and brands that communicate with us. But to be relevant, you really have to know who you are dealing with: your audiences, your customers, your users, your consumers. Hence the use of databases, the "Big Brother" who is spying on us: who says that it's all to serve you better! And "he" is right! To communicate effectively with us, to be relevant and to serve us well, companies must know all about us. That is why they are applying artificial intelligence algorithms to the databases containing data on us.
A well-accepted practice, but ...
Despite all the societal debate surrounding the storage and use of personal data, these practices are still fairly well accepted. Two out of three people in the country (67%) feel comfortable with their purchase history being stored in corporate databases in order to personalize the communications they receive. Three out of five people (59%) feel comfortable having their web browsing history used for the same purpose.
However, while these findings indicate a certain degree of acceptance, the 33% of people who feel uncomfortable with the use of their personal purchase history and the 41%, with the use of their web browsing history still represent a lot of people in the country. People are divided on this issue. Social movements can erupt with less support than that!
These people need to be reassured. They need to be shown that their data is only being used to deliver more relevant content to them.
What people accept the least (39%) is having their physical movements tracked via their smartphones, whereas, without meaning to overly gild the image of my industry, the use of a person's survey data is considered the most acceptable, with three out of four (76%) feeling comfortable with this practice when it is used to personalize the communications they receive.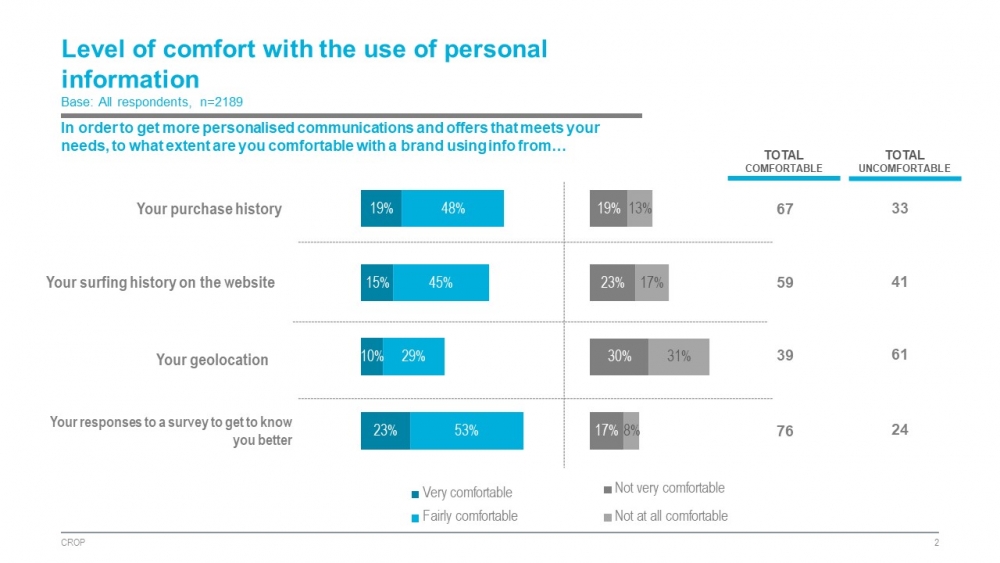 Note that older people (55 years and up) have the most reservations about these practices, while younger people (18-34 years of age) are the most comfortable with them.
But rather mixed satisfaction with these personalized communications
In terms of what they receive, 50% of Canadians say they are satisfied with the quantity of these communications, 45%, with the frequency, and a noteworthy 45% with their relevance. While dissatisfaction rates are not very high, they are still significant: 17% are dissatisfied with the quantity; 26%, with the frequency; and 23%, with the relevance.
What is striking are the rates of indifference (neither satisfied nor dissatisfied): 32%, for quantity; 29%, for frequency; and 32%, for relevance.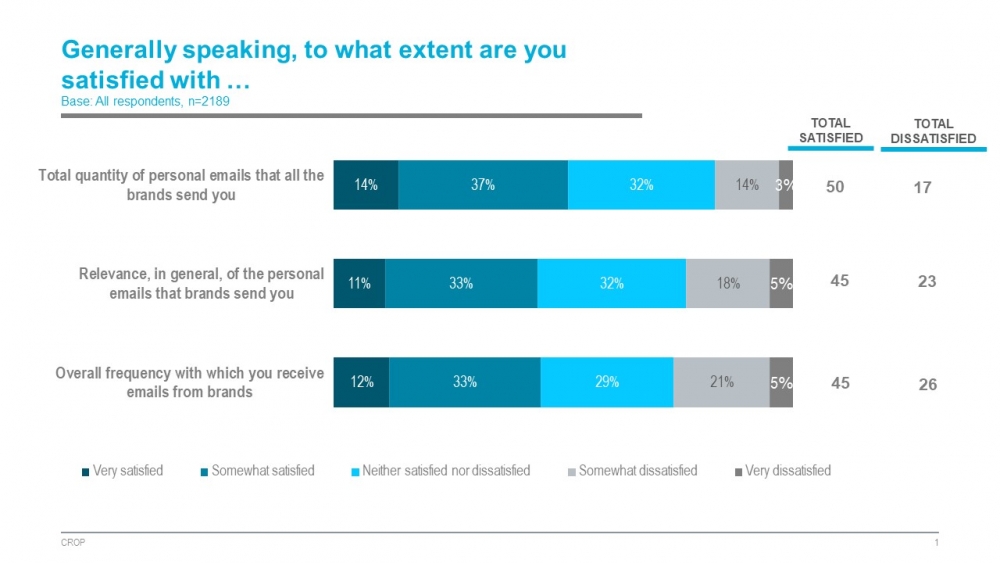 But this is where the problem lies: the rather mixed satisfaction with the relevance of the communications they get. Marketers want to replace mass communication (via traditional media) with direct communications (e-mail, social media, etc.), but truly relevant personalization has been slow to arrive.
Note that all these indicators are relatively correlated with each other. We can clearly identify an acceptance versus a rejection "factor" with regard to the use of personal data for commercial communications purposes. The perceived relevance of what people get is at the heart of their attitude to these practices.
The current grumbling against these practices would be less if the relevance of the communications hit closer to the mark.
A consumer culture versus a corporate conspiracy theory
Moreover, when we examine the values of the people who are satisfied with the relevance of what they receive versus the values of those who are not, we find a mix of consumerism and a need for stimulation, Inspiration and the expression of their potential and creativity as opposed to an anti-consumerism culture firmly rooted in the belief that companies are doing everything in their power to create artificial needs to push people to buy stuff they don't really need. These people certainly do not see any relevance to them in those communications.
In fact, the use of personal data has become such a societal issue that it is dividing people along radically opposing values.
Our consumer culture has exploded in recent years. Increasingly, we value innovation, new products and new technological applications that transform our lives, stimulate us and potentially leverage our personal development. For these individuals, if the price for accessing offers and content on these thriving markets is that they must allow access to their personal data, they figure it's a fair bargain. This type of consumer is strongly on the rise in the country, which explains why there is a majority of individuals on the side of acceptance.
In contrast, the most socially critical people, whose numbers are stable but still impressive, tend to believe that companies are not behaving ethically. They want to contribute to a better world, socially and ecologically, and for them, the utilisation of personal data is yet another manifestation of a purely mercantile approach by companies with no social conscience. Admittedly, few companies know how speak to these individuals in a relevant way!
Company communications will become more personalized and relevant
Despite all the issues and criticisms surrounding the use of personal data and the regulations to come, this industry shift is underway and unstoppable. Every day, artificial intelligence is coming up with new ways to "relevantly " this data, and the more relevant it becomes, the more socially accepted it will become, too.
Let's hope it doesn't take too long for this this relevance to make itself felt!