Of all the phenomena that we examine in our various market studies, the attraction of local products is certainly one of the most interesting. On a marketing level, one in four consumers in the country indicates great demand, as well as serious competition for the national brands of industrialized products. But the cultural significance of local products seems even more significant to us (in the anthropological sense).
Planned obsolescence has become a common theme on consumer news feeds (especially since the hue and cry about the latest updates to Apple's iOS operating system). Consumers are looking for what's real, what's authentic. They are trying to avoid overly industrialized products of questionable durability and longevity. This kind of unequivocal value judgment is spurring interest in local products.
More specifically, 24% of Canadians are in total agreement with the statement "I believe it is essential to support local products & brands, even if it means paying a little extra." (We normally consider only those who "totally agree" with such a question because when we ask people if they would be willing to pay "a little extra," we are only interested in the most committed.)
What's more, no socio-economic or sociodemographic group or segment significantly stands out on this issue. Interest in local products is not the sole purview only of the wealthy, the educated, the urban Millennials, or anyone else. This interest is essentially a social phenomenon that transcends traditional social categories. What underlies the attraction to local product is a specific set of personal values; in other words, cultural motivations.
This desire for local products seems to be part of a growing motivational movement within society. This pursuit of authenticity and products of "substance" has been rising in linear fashion since 2014 (the first year we measured this phenomenon). The growth is not huge: from 2014 to 2017, it rose from 19% to 23%, but the linearity of this growth seems quite significant to us. (It is highly unlikely that the statistical variability in the samples has erred in the same direction three years in a row).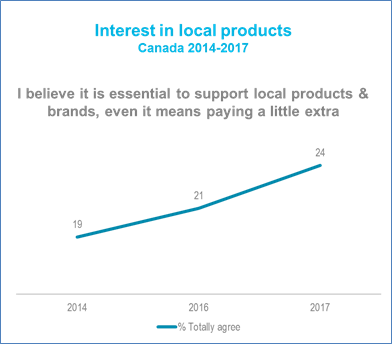 A society in search of myths, meaning
If socio-economic and sociodemographic characteristics do not account for this interest in local products, the key to understanding the underlying motivations lies in the values and hot buttons of these aficionados! For them, local products perform a highly symbolic function. They embody the "meaning" that they seek in life, in the society around them.
For them, local products have a soul. They express the passion of their producers. These products have founding myths, a mythology, stories of visionaries toiling away in their garages or in remote pastures to create singular, unique, and totally authentic products. Local products offer a compelling contrast, an irresistible alternative, to what many perceive as the excessive industrialization (and suspected planned obsolescence) of consumer products. They represent a kind of nostalgic "remembrance of things past" within a glut of throw-away disposables.
"Local" also takes on a very "open" meaning. The basic meaning refers to something produced in the consumer's own region. Proximity and its ties to the land guarantee its uniqueness and the authenticity. But when we analyze the structure of the personal identities of these local aficionados, we find that they have remarkably multidimensional personalities!
They derive their identity from multiple sources - from their connection to their network of friends, their community, their locality, their region, their province, their country. They even consider themselves to be citizens of the world! They belong to the so-called "glocal" phenomenon: their identities extend from the "global" (worldwide) to the local. They subscribe to the major progressive trends happening around the globe, but they act at a local level (by buying local products): they "think globally, act locally".
By carefully studying the values profile of these aficionados, we also find that the authenticity of the product, its "soul," is even more important to them than its "localism." They can be as enthusiastic about products from other regions of the world, as long as they are authentic, have a story to tell, and are based on founding myths.
Finally, it should be noted that these "local" product lovers aspire to sustainable, environmentally and socially responsible consumption and lifestyles. The passion and care evinced by local producers belong to an ethical movement of responsibility, on the part of both the producers and their customers equally.
A social change, a business opportunity
A local product is like no other. Buying local "almost" represents a lifestyle choice. Almost, because the supply is still limited compared to the more common industrialized products. On the other hand, given the motivational support for and the cultural relevance of local products, we can only conclude that there is potential for considerable growth in the marketplace for these products in the coming years.
Let's hope that distributors give these products the prominence they deserve!