As a follow up to my last two posts on the various ways of dividing the Canadian population into large families (segmented on a societal and consumption level), I thought it would be interesting to add our segmentation of the food habits of Canadians.
We are witnessing a revolution in this arena, with profound changes in our expectations, needs and food habits. New food lifestyles are emerging; our buying criteria are becoming more complex, our requirements more sophisticated. In this arena of continuous transformation, marketing specialists call it "creeping segmentation." It is no exaggeration to say that the sociocultural transformation of society (the evolution in our values) is being expressed unequivocally through our palates!
Four main "megatrends" give structure to this transformation:
Sophistication
Simplification
Health
Value
1. Sophistication
For a growing number of us, food has become a source of exploration, of unique, gratifying, and comforting experiences ("comfort food"), of fun and discovery. Eating well has become one of life's greatest pleasures. Even food shopping has become an agreeable pastime. We want to feel more "connected" (symbiosis?) to our food ("slow food"). We cook for pleasure. We experiment with dishes from other countries. Both enjoying and preparing a good meal have become popular rituals.
2. Simplification
The pace of life has also put more demands on us. Our schedules are more difficult to manage. Combining work, family life and extracurricular activities has become more of a challenge. People have less time to cook. They are looking for ways to simplify their meals. They want to spend as little time as possible on meal preparation. They regularly skip meals. They rely on meal substitutes and portable solutions. They snack. The purchase of ready-made meals is on the rise. However, the market has a long way to go to meet the demand (there are far too many simplification offers that do not meet their requirements for sophistication and health).
3. Health
Health is also a purchasing criterion on the rise. As the Beatles sang in Savoy Truffle, "You know that what you eat you are." People have become aware that their food choices can greatly affect their health. They want to reduce or even eliminate the consumption of potentially harmful substances (fat, cholesterol, fried foods, salt, sugar, etc.) and add nutrients with beneficial properties (antioxidants, omega 3, super-foods, etc.). They read the ingredient lists on the products they buy. They are making increasingly healthy food choices
This trend is also associated with the new philosophies of life, which combine food and the art of living with ethical and ecological concerns (veganism, vegan food, etc.).
4. Value
Price is priority for many people when it comes to food, just as it is for many other product categories. They try to pay the lowest possible price for everything they buy. A few years ago, price was the sole criterion. Today, it's all about value. Not so long ago, consumers would accept lower quality for a cheaper price. Today, this equation no longer holds: we want the best for less (what marketers refer to as "value").
Five consumer segments, five very different approaches to food
The synthesis of these trends, and everything associated with them, results in five large families of Canadian consumers ...
Health Sophisticates (14%) :
A view of health based on limiting or eliminating substances considered to be harmful to health (fat, sugar, salt, etc.). But they still hope to enjoy tasty food experiences. These consumers cook for pleasure, read about cooking and experiment with dishes from other countries. An overrepresentation of women, Quebecers, people aged 45 and over, and people with higher educations.
The value proposition to convince them to buy: very tasty, even without fat, sugar, salt, etc.
Foodies (22%) :
For these consumers, eating well is one of life's greatest pleasures! Every meal should be an occasion for a gratifying festival of flavours. They read about food, recipes and the customs of other cultures. They like to cook, shop, touch, smell, taste, etc. ("polysensoriality"'). They are both gourmand and gourmet. They are experimenters focused on discovering new flavours, as well as rediscovering traditional dishes and recipes. There is a clear majority of women in this consumer segment (its only distinguishing feature).
The main value proposition to convince them to buy: exquisite flavours, exploration and discoveries.
Curious Unstructured (23%) :
The people in this segment want the pleasure without making any effort. Or, they simply have no time. Given their lifestyle and activities (work, family, recreation), these consumers want to minimize meal-preparation time. Their eating habits are quite unstructured. They skip meals, snack instead of eating a real meal, eat ready-made meals and use portable solutions, etc. But these consumers are also very sophisticated. They are also looking for gratifying, unique and exotic flavours. There is an overrepresentation of English Canadians, men, 18 to 44 year olds, households with children, professionals and administrators, high-income individuals and residents of large cities.
The main value proposition to convince them to buy: delicious, sophisticated, healthy, quick ... and not too expensive (even though they are price flexible).
Casual Gourmands (18%) :
These consumers are not terribly invested in food and have no "appetite" for anything sophisticated. They are perfectly happy with fast food restaurants. They also spend as little time as possible on meal preparation, since food is not an area that they find particularly exciting (whence their indifference). They are also not very concerned about health (they consume a lot of processed ready-to-eat meals). An over-representation of people under 35 and individuals with low levels of education.
The main value proposition to convince them to buy: simple, ready to eat, good but not expensive.
Traditionals (22%) :
These consumers approach food as if none of the recent food trends have reached them. In some food shops, they must feel like they have landed on Mars! They want to eat the same way as always: the same dishes, the same recipes, served the same way. Tradition, the known, the familiar, the unchanging touchstones: these are essential to them. Eating is strictly a response to a physiological need. As a result, price is one of the most important criteria. Being older, they also are somewhat concerned about healthy eating, probably at the urging of their doctor (limiting fat, sugar, salt, etc.).
The main value proposition to convince them to buy: just like the good old days (while following doctor's orders!)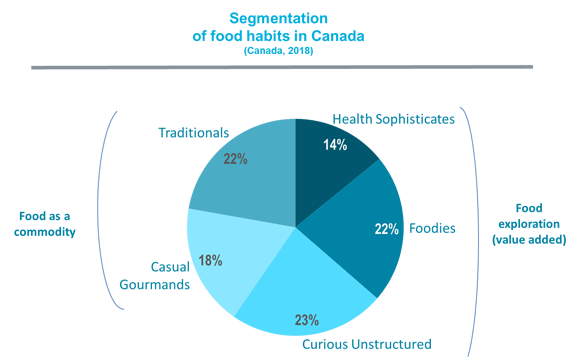 As one might expect, Quebec differs from the other Canadian provinces in this categorization of food expectations and habits. As illustrated in the following table, there are more Health Sophisticates and Foodies in Quebec, thanks to the French tradition and the province's renowned joie de vivre, whereas there are more Curious Unstructured and Casual Gourmands in English Canada, where food is less of a priority in their lives and in "competition" with their other daily activities.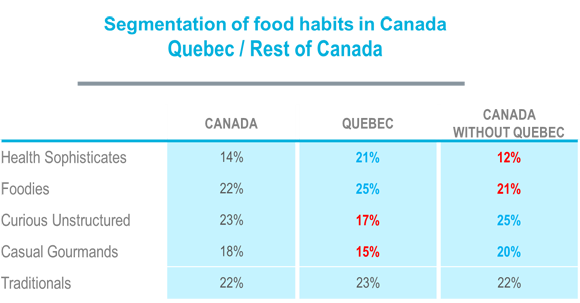 The synthesis of the trends in recent years
We are not always able to follow the evolution of our segments over time (our survey questions are not always identical from one year to the next). But in this case, we used exactly the same tools in 2014 as in 2018, thus enabling us to observe this evolution.
Based on the following table, note that ...
Curious Unstructured are skyrocketing, up 13 points in four years! (This segment combines the trends of sophistication, health and simplification).
Health Sophisticates are in decline. These consumers are less inclined to cut out ingredients that give them pleasure (preferring a certain balance).
Traditionals are in free fall. Their penetration by current trends is causing an inevitable decline.
Foodies are on the rise in Quebec, where joie de vivre is still a factor as is their enthusiasm for good food.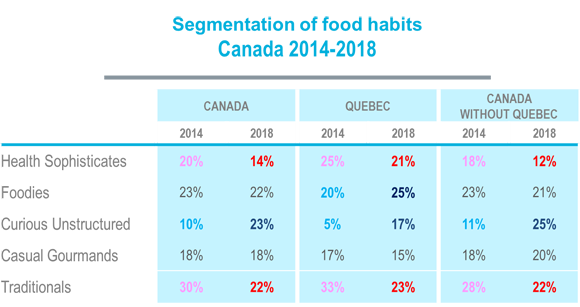 Great market opportunities
Although Quebec is still the poster child for joie de vivre, it is increasingly spreading over into the menus of other Canadians! Consumers' pursuit of pleasure is undoubtedly being expressed through food. Meals are increasingly becoming a moment of highly enjoyable conviviality, of sharing and of gratification. A wonderful balm for all of life's stresses!
These trends offer tremendous market opportunities to all businesses and entrepreneurs able to respond to these rising needs. And in these areas, the door is open equally to both small businesses and industry giants.
Bon appétit!