For my last post of the season, since I break for the Holidays, I wanted to complete my series on the segmentation of the Canadian population with a final chapter examining the adoption of innovation by consumers and citizens.
To do this, I synthesized the work we've done in recent years to update Everett Rogers's theory on the diffusion of innovation, which first appeared in 1962. Its fifth edition was published in 2003.
Most people have heard of the so-called "Early Adopters," the first consumers to acquire the latest innovations, use them in an ostentatious way and take a leadership role in enthusiastically promoting them to their entourage. These are the people who will spend the night camping outside an Apple store, waiting for it to open so they can rush in to be the first to get the newest gadget.
However, behind this stereotype is a complete theory of the diffusion of innovation by Everett Rogers. Simply put, according to his model, innovations, new ideas and practices in society get diffused through the leadership of groups of individuals, moving from the most to the least receptive, until they have reached an optimal penetration.
The original model looked like this: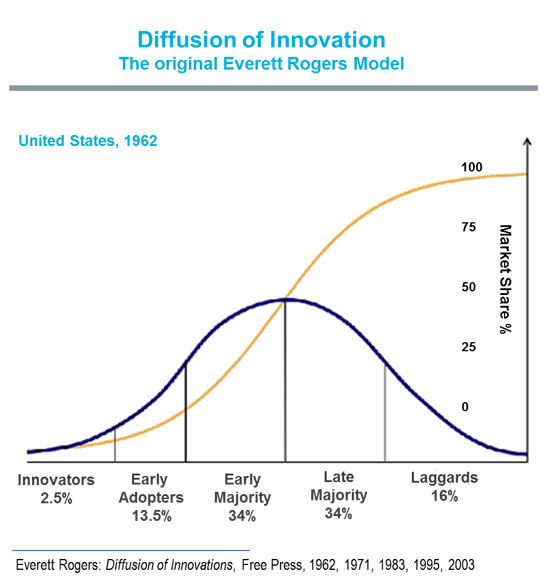 The theory goes that for any given innovation, "Innovators," small marginal groups very plugged in to the latest advances, act as leaders and interest the "Early Adopters," a much larger mass of individuals who truly set an example in the marketplace and in society and who, in turn, inspire the "Early Majority," thus helping the innovation in question reach the largest number of consumers and citizens. According to this theory, the diffusion is driven primarily by the leadership of each of these segments, in sequence, one after the other.
Next come the "Late Majority," who are more skeptical and only jump on the bandwagon when the innovation has been generally deployed. Finally, we have the "Laggards," those traditionals who reject, until the very end, all expressions of modernity.
What determines which segment a person belongs to is essentially income, socio-economic level, and status in the social pecking order. (In the 1960s, if you didn't have a colour TV, you were a second-class citizen!).
More than a half-century later
In the current frothy climate of innovation, many analysts believe that Rogers's theory is no longer relevant. They point to the tremendously rapid penetration of smartphones and use of social media.
However, whether or not you agree with Rogers's entire innovation diffusion theory, his segmentation model is still very useful when looking at the adoption of innovations, new ideas and social practices by people, consumers and citizens.
Based on a careful analysis of Rogers's segmentation, our studies have succeeded in reproducing his model. This work has led us to conclude that his model is still relevant but at a much faster rate (infinitely faster in some cases - as with smartphones).
We believe that the diffusion is much faster than it was in Rogers's time because there are many more Innovators and Early Adopters, and with the help of social media, their leadership is much more influential, personalized and effective, since they are spreading their influence to communities of interest (sometimes exponentially).
Full disclosure: our measurements of the progression of the segments presented here are approximate, since we did not use the same data as Rogers for our measurement tool. Nevertheless, it makes perfect sense in our current climate of hyper-valorization of consumption and the constant societal changes ("innovation" here is referring to more than just technological gadgets).
Our various analyses of the subject have produced the following estimate: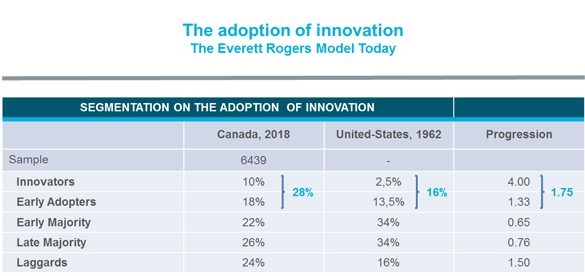 What is striking about our new "edition" of this model is the abundance of motivations and hot buttons that put people in a particular segment rather than another. They are easy to target with advertising and marketing when you know how to identify them among the various stakeholders (consumers, clients, volunteers, etc.). The also have very defined sociodemographic and socio-economic profiles.
Today, six main types of motivations underlie membership in these different segments of innovation adopters ...
Status, creating a social identity (pride, just as true today as in earlier decades);
Gratification, pleasure, play;
Exploring new ways to interact with today's world (notably, by being more ecological);
Transforming the rituals of one's life;
Finding leverage to get ahead in life, to achieve one's goals;
Being in control, in all areas of one's life.
This cocktail of motivations behind innovation adoption has become much more complex over time, especially since each of these motivations can be combined with the others, depending on the individual and the adoption segment he/she belongs to.
Five "adoption" segments with very different motivations (our updated Rogers model) ...
Innovators (10%):
These are people who get involved in online discussion forums to suggest improvements to products and services and even to offer advice for the creation and marketing of new products. They are enthusiastic participants in what is known as "co-creation," in having conversations with brands and non-profits to initiate innovation.
They have multiple motivations: they want to develop their potential, transform their lives and life in general, play, take pride in themselves (status), while getting involved in creating a more ecological and socially better world.
A marked over-representation of men, people under 45, professionals, high-income earners and residents of the country's big cities.
The main value proposition to convince them: "Come help us build the future." Engage them in the process of co-creation with the brand.
Early Adopters (18%):
A less intense version of the Innovators. They have almost the same motivations, although they are less active on discussion forums (not very motivated by co-creation) and not terribly concerned about the ecological and social issues of the day.
They want to be the first to own the latest innovations for reasons of status, personal expression and play.
An over-representation of people under 45 and high-income earners.
The main value proposition to convince them: "Be (and be proud to be) the first". We are creating communities where we promise you will be the first, etc.
Early Majority (22%):
This segment is less passionate about innovation. They are infinitely more practical. For them, innovation has lost its symbolic veneer. It is a part of daily life. Their main motivation is to be in control, to have all the necessary tools to feel fully in control of their capabilities.
Interestingly, this segment has no distinguishing sociodemographic or socio-economic traits (they are Mr. and Mrs. Everyone).
The main value proposition to convince them: Be in control of what you want to accomplish (like Microsoft said, "Where do you want to go today?").
Late Majority (26%):
This segment adopts after everyone else. When the innovation has become commonplace, a part of the majority's daily life, when the innovation is no longer an innovation! In fact, these individuals see innovation as a threat. It incarnates and symbolizes an uncertain, risky world that is changing too fast, one they are barely able to keep up with.
This segment is slightly older than the average for the population.
The main value proposition to convince them: Stress the utilitarian, on teaching the proposed function.
Laggards (24%):
These people are very different from their original counterparts. It is no longer tradition that motivates them, but rather voluntary simplicity, anti-consumerism, anti-business ("No-Logo"), as well as the feeling, or at least the fear, of exclusion.
An over-representation of people 55 and up, and of women.
The main value proposition to convince them: Don't bother!
They will buy only when they are good and ready.
The coming years will bring us with a flood, a tsunami, of innovations! In all sectors of human activity. It is difficult to predict how this segmentation will evolve. Adoption of these upcoming innovations will no doubt vary, depending on the sector of activity and how much of a threat they represent. But we have no choice but to live with innovation. As with the Late Majority, a teaching approach to innovation will surely be needed, but on a larger scale.
The fact that Innovators are so demanding about the ecological and socially responsible properties of innovations gives us hope for a better world!
Happy Holidays! See you in January.